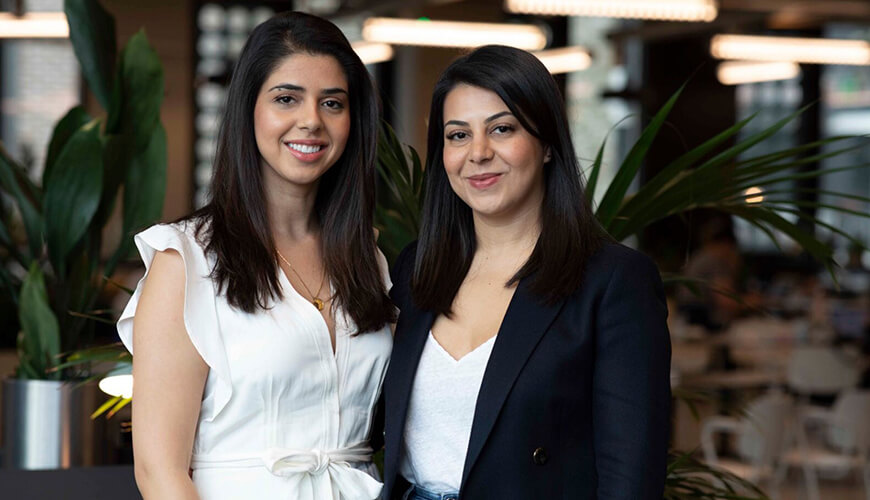 As you may or may not know, Kloned was founded by two sisters, so
today, we're celebrating the girls! Starting a business alone can be daunting, so having someone by your side is exactly the support you need, and who better than your sister? But who are the women behind Kloned? And how did they get here?
Firstly, what is Kloned? Kloned are more than Virtual Assistants, they are a team of in-house Executive Assistants who provide expert admin support to individuals and businesses. In short, they're the secret weapon of successful people.
Meet San Peyman and Ellie Houshanpour, the girls who really are, in the words of The Eurythmics, doin' it for themselves! San is a wife and mum who took time out during university and worked as an Executive Assistant before completing her studies and graduating from Queen Mary University of London. Ellie studied sciences at university to a masters level and went on to project management roles in the pharmaceutical industry.
After working many years within their respective sectors, they decided to create a business which not only encompassed their experience and background but also gave them the opportunity to work together. They both knew they wanted to help give people more time, whether it was time for self-care, family, self-development or business growth. It was at this point that the Kloned vision was created – who wouldn't want to Klone themself to create more valuable time?
We decided to ask some questions to gain an insight into Kloned and the sisters behind the company:
When did you decide to start Kloned?
San: 'It was a combination of things, I felt disillusioned with what I was doing, I knew I was capable of so much more. I could see gaps in the market and knew something like this was missing – accessible, high-quality assistance without the price tag.'
Ellie: 'We realised that most people felt held back by their own 'life admin'. What's rewarding now for us is seeing people and business who we have worked so closely with now able to achieve the goals they set out to achieve.'
Entering into business with a sibling is not for the fainthearted, of course. Separating work from family life can be a challenge because sometimes it's unrealistic to leave work in the office when there is so much to do. So:
How does one decide to go into business with a relative?
San: 'We are very close, and we come from a very tight-knit family, so once we did think about starting a business, it was never a question that we would do it together!'
Ellie: 'It was a natural progression of where we were in our private lives as well as working lives and we know we both bring different strengths/skill-sets to the table.'
At Kloned, we believe it's important to reflect on the obstacles that we've overcome, as not only does it make us more resilient, but it also teaches us to learn from these difficulties, and ultimately makes us stronger. Upon asking the Kloned founders how they felt about this, they gave surprisingly similar answers:
San: 'There have been so many ups and downs. Ellie and I had no experience in the business world when we started, so we definitely had to learn on the job: from HR to finance, we had to learn it all. Although it's been hard work, we've been very fortunate to have crossed paths with some wonderful people who have helped us in their own way. The biggest struggle by far has been learning when to switch off.'
Ellie: 'It's definitely been a massive learning curve and no two days are ever the same. As exciting as it's been, we've had to pick up new skills, from how to manage a full-time team, to filing company accounts on time! All of which would not have been possible without the support and guidance of those who have helped us along the way.'
Despite the difficulties, being founders of a start-up is incredibly rewarding, and sometimes you have to sit back and reflect on all that you have done and achieved. To give the ladies this opportunity, we asked San and Ellie:
What has been your favourite moment of the past year?
San: 'The beauty of having a startup is that you have so many great moments, moments which may seem little to others are a great achievement to us. Seeing my team grow and support one another makes me very proud. If I had to choose just one of my favourite moments, it would probably be our Christmas party. Let's just say we know how to party!'
Ellie: 'For me, it has to be our summer party with the team. Things move so quickly at Kloned that we sometimes forget to just pause and look how far we've come. We're still a young company, but if I just look back to this time last year, it makes me feel extremely proud of how far the team has come, the level in which we are now operating at, and the future potential. And to be doing it all with my sister is an amazing feeling!'
It's safe to say that both San and Ellie have an inspiring motivation and drive that is infectious. We can't wait to see what the future holds for these exceptional sisters and the whole Kloned team!