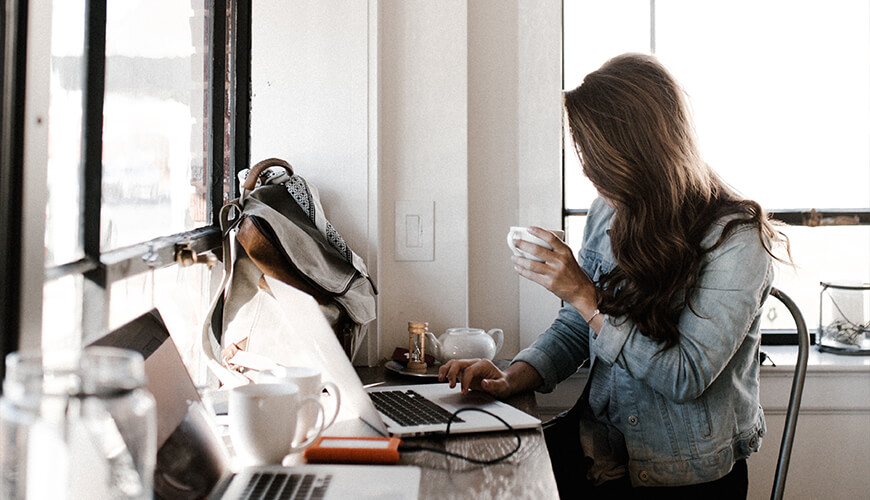 As the coronavirus spreads, working from home is the new reality for many UK workers.
With more than 50,000 Britons infected with the virus, companies are closing their doors to reduce the spread of infections. Big tech companies like Amazon, Google, Facebook, and Twitter announced that much of their workforce won't be coming into the office — instead, they will be working remotely.
If your employer has unexpectedly shut down, you may feel lost navigating remote work.
Some of the biggest challenges for employers include workers struggling with loneliness, managing their time, and communication among staff members. What's more, if schools and colleges shut down across the UK, working parents must juggle company and family priorities.
While this all can be tough, finding a strategy that works can help you make it through.
Rise and shine, just because you aren't having to commute to the office doesn't give you an excuse to grab an extra 45 minutes under the duvet. Start your day as if you were going to the office but use the extra time in the morning to prepare yourself for the day ahead, get any household chores out the way, put the coffee machine on and set your laptop / workstation up.
Most of us are creatures of habit, we work best in a structured routine, if you've never worked from home before it might take a week or two to find the routine that works best for you, try mixing things up, take breaks at different times, go for walks at lunch, sample different radio stations and music playlists to see what drives your productivity.
But whatever you do leave the fridge alone, your refrigerator is not your co-worker.
3. REMEMBER TO TAKE A BREAK
Just because you're working from home doesn't mean you have to always be on. Productivity will rise and fall throughout the day, taking breaks will help you regenerate through each one of these cycles. So, don't feel guilty about walking the dog, meeting a neighbour for a coffee or soaking up the sun in the garden for a bit.
Just remember though, it's best practice to inform your work colleagues you're taking a break otherwise paranoid managers will envision you lying on your sofa at home eating crisps whilst watching homes under the hammer.
4. ELIMINATE DISTRACTIONS
It can be incredibly liberating to have the freedom to work remotely, however it's important to work within an environment that rewards maximum productivity. When work, home and outdoor life merges into one it's easy to become distracted, so set strict parameters and put clear rules, boundaries and structures in place.
It's tempting to put a load of washing on, tidy the bedroom, make a lasagne, or order from Ebay! But set your parameters to cover time and physical activities that help create productive working environments and to differentiate between work and home life.
5. PLAN YOUR DAY THE NIGHT BEFORE
This is a useful performance strategy (if you're working remotely or not), spend time the night before prioritising your key tasks for the following day. The benefits of this tactic are two-fold, firstly it allows you to re-affirm, reflect and review what you've managed to achieve so far putting you in a positive mindset, secondly it allows you to bypass morning procrastination allowing you to jump straight into work when the day starts.
6. KEEP IN TOUCH WITH WORK COLLEAGUES
The mental health charity Mind recently raised concerns over the isolation and loneliness that long term remote working can bring, so utilise technology such as Microsoft Teams, Whatsapp and Slack to keep in touch with work colleagues. Collaborate with other members by holding virtual meetings and catch-ups so you can still feel like you're having those water-cooler moments.
There is also no substitute for picking up the phone, get into the habit of phoning colleagues rather than pinging out emails or messages. In the words of Bob Hoskins "It's good to talk".
The lines between work life and home life can become a little blurred when working remotely. Where does the work / life balance begin and end?
Most employers aren't stuffy about specific working hours as long as the work gets completed and you're accessible during the bulk of the day (10-4), however, setting specific "work from home" hours is a good way of providing structure to your day.
Informing your colleagues of when you're "in the home office" is also a good way of avoiding calls and meeting requests when you've checked out and on down time. It's important to know when you should switch off.